NASAL DECONGESTANT
Nasal Decongestion Products for free breathing from the first application. Our complete set of nasal hygiene products, ranging from sterile saline solutions to nasal sprays, will relieve you of excess mucus and other nasal conditions. Suitable for use by infants, children or adults.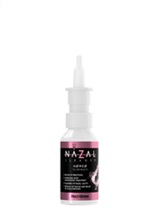 2.2% NaCl saline solution, compatible with homeopathy to relieve cold symptoms.
Saline solution with 2.2% NaCl which relieves directly from severe cold symptoms, releases breathing directly, removes mucus.